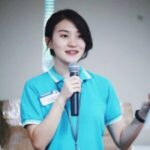 Fun and Easy Way to Speak in Korean!
Teaches using
Bahasa Melayu
,
Chinese (Cantonese)
,
Chinese (Mandarin)
,
English
,
Korean
Level Coverage
1. Seed
,
2. Sprout
,
3. Survival
,
4. Solid
Hi I am Peggy Wong, currently living in Penang Malaysia. I was graduated from Korea University in Seoul, and worked in a well known Korean MNC in Seoul for two years, summing up total of 7 years of experience staying in Korea. I started to learn the Korean Language from scratch and I know exactly what kind of support every student needs for different level of proficiency. With my experiences in Korea cooperate world, I can conduct both casual and business conversation based on your needs 🙂
Understand the learning goal and needs, access the level of students and then will generate role plays to help students to practise their Korean language in different situations.
Business
,
Entertainment
,
Fashion & Beauty
,
Food & Dining
,
Free Flow
,
Health & Wellness
,
Test Preparation
,
Travel
Online (30 minutes): US$8
Online (50 minutes): US$14
Onsite (50 minutes): US$20
{{ reviewsTotal }}
{{ options.labels.singularReviewCountLabel }}
{{ reviewsTotal }}
{{ options.labels.pluralReviewCountLabel }}