Practice Korean with locals
Sometimes what you learn from books are not reflective of how locals really speak. Book a Practice Buddy on uBitto to learn and practise through conversational sessions. In just a couple of 1:1 Practice Sessions, you will see how people are the best learning tool to learn a language.
How 1:1 Practice on uBitto works
Step 1: Choose Your Buddy
Watch buddy's introduction videos and their listing details.
Step 2: Book Your Lesson
Schedule lessons at a time and date that suit you.
Step 3: Start Practising
Connect with your teacher 1:1 via Zoom, and let the practice session begin!
Book a One-on-One Practice Buddy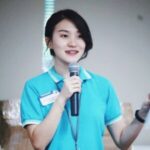 Speaks Bahasa Melayu, Korean, English, Chinese (Mandarin), Chinese (Cantonese)
Available on Mon, Tue, Wed, Sat, Sun
The key to fluency lies in interaction.
It's only when learners are using the language that they truly learn. No translation, no subtitles, no mother tongue. The most effective way for a language learner to be fluent is to simply speak the language. Real conversations. Real connections. Real progress.
"I've improved my Korean tremendously after staying with a native Korean family on a student-exchange programme."
Korean language learner of 3 years
My language skill was truly put to test after joining a Korean farming trip where none of the locals spoke any English! That's when I realised I still have much to learn.
"Doing my masters degree in Korea and having to interact in Korean daily have pushed me to speak and listen better. When I came home after a year, my language teacher was shocked at my progress!"
Frequently Asked Questions
If you could not find what you're looking for here, talk to us and we'll get back to you as soon as possible.
Yes! Just treat Practice Buddy as a friend who can introduce you to the world of Korean language. If you have zero background, you can book one to have 1:1 beginner sessions. All our Practice Buddies are qualified to teach and practise.
Upon order confirmation, you will receive an email with a unique link. Simply click the link during the scheduled time to have a video call with your Practice Buddy.
Yes. Each Practice Buddy has different fees. You may opt to book 1 session at a time or book recurring sessions.
Please refer to each Buddy's listing to check out the languages that they speak as our Practice Buddies are comprising of people of different nationalities, mother tongue and expertise.
You may choose to book 30-minutes or 50-minutes session. 
There will be no replacement or refund for each session missed as Practice Buddy has allocated time for you.  is It is up to Buddy's discretion to allow rescheduling. However, they are not obligated to do so.
Student can also test their level through the quizzes available.
Upon completion of each course (be sure to 'Mark as Complete'), you will be issued a certificate by uBitto. Do note that this certificate only acts as Proof of Completion.
The only certificate recognised by Korea/worldwide is to take the International Proficiency Test for Korean Language (TOPIK exam).
You can use this certificate to apply for jobs or for education purposes. This is an external exam conducted twice a year in Malaysia, usually in April or October at Kuala Lumpur.
There will be additional prep classes to students who are keen to sit for the exam as the TOPIK exam gets nearer. TOPIK exam and enrolments charges is to be borne by student. We can help to furnish info and registration.
The course prices are in US$ Dollar.
It depends. As is the case when learning any new skill, your progress depends on your efforts. If you would like to learn quickly, then we suggest that you make language learning a consistent habit.
Want to be a Practice Buddy?
For aspiring individuals driven to make a difference and meet amazing people from all walks of life. Simply by making conversations. Sounds fun? Here's your shot to be a Practice Buddy!