Time travel is a concept of travelling from present to past and from present to future.
It has been so popular previously for the movie "Back to the future".
Sadly it is not a genre, so it might be difficult for you to search it up.
So, here's the top 10 time travel Korean dramas you have to watch! You won't regret it!
1. 터널 Tunnel
Tunnel depicts a story of a man named Park Gwang Ho who works as a detective in 1986.
While catching leads to serial homicide related to a killer killing women who'd left a mark with strange dots on their ankle, Park Gwang Ho met the culprit.
Unfortunately, the culprit was able to hit the detective's head which ended Park Gwang Ho 30 years ahead in 2016.
With the help from detectives in 2016, he was able to find out the culprit he unable to catch back in 1986.
Not a fond of time-travel K-dramas? Read also: 10 Must Watch Romantic Comedy K-Dramas of All Time
2. 시그널 Signal
Signal shows a young profiler named Park Hae Young in the 2015 acquires a mysterious walkie-talkie.
With that walkie-talkie, he was then allowed to communicate with a detective in 1989 named Lee Jae Han.

What is interesting in this drama is that they are working together through a walkie-talkie and talking with someone from the past.
With the help from Lee Jae Han, Park Hae Young was able to solve unsolved cases in the past.
How amazing is that!
Not to mention that the main cast and supporting roles of the drama really played their role remarkably.
3. 라이프 온 마스 Life on Mars

Life on Mars is a drama based on the UK series (Life on Mars).
The story depicts Han Tae Joo, lead of the crime investigation team in investigating serial murder case.
While solving the case, Han Tae Joo has an accident which when he wakes up, he is in the year 1988!
When he wakes up, he is so clueless!
What happened to me?
Why is the environment so different?
Not knowing much, he realises that he is now, in the year of 1988, a detective that is appointed to work at a police station in a small urban area.
In the early stage, he is trying so hard to solve the crime in 1988 so that he can go back to the future.
This is one of amazing time travel dramas which brings you to a very retro-kind-of-feeling. Each scene

4. 달의 연인: 보보경심 려 Moon Lovers: Scarlet Heart Ryeo
Moon Lovers: Scarlet Heart Ryeo drama tells the story about a young adult woman named Go Ha Jin who lives in the 21st century and suddenly drown in a river during lunar eclipse time-traveled back to the Goryeo Dynasty during the reign of King Wang Geon or known as Taejo of Goryeo.
Shockingly, she woke up as a different personality named Hae Soo but with a similar face.
She has to deal with the princes, some of them fighting over the throne of the King.
The celebrities involved and the character development in this drama is one of the reasons you should watch this drama!
The lists are Lee Joon Gi, IU, Kang Ha Neul, Ji Soo and Baek Hyun! What a great collaboration isn't it?

5. 아는 와이프 Familiar Wife
Familiar Wife stories about a married couple between Cha Joo Hyuk who works at a bank branch and Seo Woo Jin who is a housewife.
With all the stress and fights between them, Cha Joo Hyuk
One day he met a middle aged man on a subway train and handed him rare coins.
When Cha Joo Hyuk finished his 9-5 job and drove back to his home, he suddenly passed through an unknown road with tolls that he had never seen before.
He used one of the coins given by the man in the subway and surprisingly the toll opened up for him.
From there, he wakes up to the day before he met his current wife and tries to change his fate by not meeting and marrying his wife instead go to his crush.
This is one of the excellent acted dramas by Ji Sung that you should watch!
6. 365: 운명을 거스르는 1년 365: Repeat The Year
This drama is one of the underrated time travel Korean dramas.
It tells the story of 10 people who get the opportunity to reset their lives and travel back one year into the past.
They reset their lives and went back into the past with expectation in creating a better future for themselves.
Sounds good right?
But this drama does come with a happy package instead of bad omens which awaits them there.
These 10 people mysteriously start dying one by one leaving the survivors who must sweat themselves to escape the similar fate of the other deceased time travelers which put them on survival mode.
This is one of the good thrilling dramas you should watch with its characters development such as manipulation and betrayal.
7. 내일 그대와 Tomorrow, With You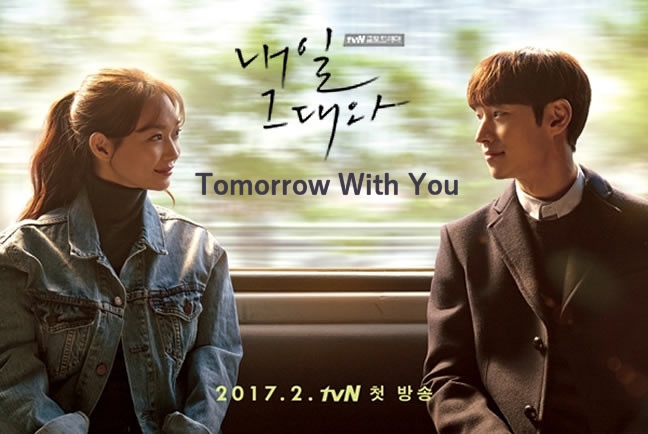 A fantasy romantic comedy drama that depicts a story between a time traveler Yoo So Joon who travels through time interchangeably via subway station.
He traveled in the future and foresees his death unknowingly discovers a mysterious connection with a woman named Song Ma Rin, an amateur photographer who indirectly saved his life previously.
He realises that by being with the woman actually will prevent his death.
Yoo So Joon decided to marry Song Ma Rin to avoid his death but as he gets closer to her, he gradually develops feelings for her and tries to love and protect her in any way that he can.
In this drama, it shows how, as a person, knowing the future tries to change his fate.
However, knowing your future and changing it might have a different impact in his life.
Although the plot building is a bit slow, this is one of must-watch time travel Korean dramas with their great chemistry!
8. 명불허전 Live Up To Your Name
Live Up To Your Name is a fantasy medical drama portraying a traditional korean medicine doctor who lives in Joseon Dynasty named Heo Im.
One day, Heo Im fells into a river and time traveled to the modern day of Seoul, South Korea.
There, he met Choi Yeon Kyung, a modern female doctor working in a hospital.
Shocked by the sudden change of era, Heo Im tries to gain a lot of wealth with his specialties.
This is a very interesting movie as this combines historical, medical, time-travel all in one drama.
Perfect for those who love the story line!
9. 너에게 퐁당 Splash Splash Love
Splash Splash Love is a story of Dan Bi, a senior high school student applying for the College Scholastic Ability Test (CSAT), blessed with a special ability which allows her to transport herself to anywhere on rainy days.
One day, Dan Bi was stressed out and ran off to a playground and suddenly she hit the puddle and found herself time-traveled to the Joseon period.
There, she met with Lee Do, a young king who was under a tough situation and current epidemic during his reign.
But one day Dan Bi decides to return to her own era in Seoul. Alright that's all the spoiler alert.
For those of you who have not watched it yet, you should really watch it!
10. 더 킹: 영원의 군주 The King: Eternal Monarch
The King: Eternal Monarch, a booming epic drama of the year 2020 is a must watch drama for those who love the romantic-fantasy genre, not to mention the character build up and the plot twist in the drama.
The drama tells the story of Lee Gon, a modern-day Emperor of the Kingdom of Corea (A parallel world), who tries to cross the barrier to go to Republic of Korea using half of 'manpasikjeok' (a flute that carries a myth of travelling from one world to another and being able to time-travel).
In the Republic of Korea, He tries to find Jung Tae Eul, the woman in the identity card he found when he was a child during a treason committed by his uncle, Lee Lim.
Then, he found out that Lee Lim is still alive as of the effect of the other half of the flute he stole.
Thus, this takes Lee Gon to the series of sacrifice in returning back the flute to its original state and making peace to both worlds without any interference.
Spoiler alert: There is a time where Lee Gon time-traveled to the past but can't return to the future which takes him a lot of time to go back and forth just to go back to the year he left the era.
It is the latest time-travel Korean drama series you should watch.
Since the episodes just finished, you can start binge-watch it during your pastime!
After knowing all these dramas, which drama would you want to be able to time-travel with them?