Korea has been visited by tourists every year and many new tourists are coming each year. However, since this year the world is shocked with Coronavirus, many people who have not been to Korea might already put things to do in Seoul in their bucket list.
Now this is a perfect read for you who considered yourself as a first-timer to plan out where you should go.
Let's check out the top 10 things to do in Seoul for first-timer!
1. Gyeongbukgung Palace 경복궁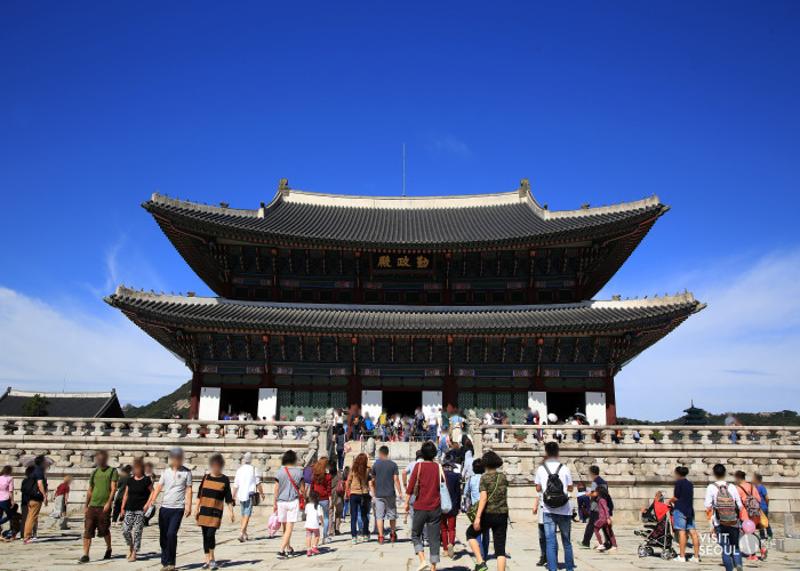 What to do when you first arrived in Seoul, Korea? Going to the place that holds thousands of history in Korea is the best place to go to understand Korea from its roots. Remember, Korea is not just about KPOP or K-Drama, without history, all of those entertainments would not fill our free time.
Gyeongbukgung palace was built in 1395 but destroyed during the Imjin War and later restored.
This is a famous place that holds the identity of Joseon dynasty.
The place opens every day starting from 9 a.m. except Tuesday with the starting fee of 3000 won for adults and 1,5000 won for children ages 7-18. It is suggested for you to spend roughly 2 hours there so you can fully explore the palace.
If you want to know more directly at the palace instead of reading the history in advance, they also offered tour service in English, Chinese and Japanese!
Bonus: If you want to save your money, you should opt for Royal Palace Pass which only will cost you 10,000 won and you have the chances to go to five palaces (Gyeongbukgung, Deoksugung, Changdeokgung, Changgyeonggung and Jongmyo Shrine). But this is a time-consuming activity, so it's best to plan out your schedules because there's a lot of things to do in Seoul!
To see more information, you may want to read this.
2. Myeongdong street 명동
This place is famous for shopping and fashion. You can find local brands and even international brands here. The products ranging from apparel, accessories and cosmetics. As international brands can be reached almost everywhere, it's best to visit local stores! Some of the stores you should visit are SPAO, Bean Pole, Roem and TOP TEN.
For those who like Korean cosmetics products, now you can visit the shop of products that you used such as Innisfree, The Face Shop, Laneige, A'PIEU and many more!
There's a lot more at Myeongdong aside from brands. You can find department stores, shopping mall, and a lot of street foods.
For you who have been planning to try out Korean street foods since then, now if you are in here, try out! You may try the hot fish soup and fishcake which is quite famous in Korean drama as well. It's best to try the fishcake in winter!
Whereas fishcake is famous, other street foods such as tteokbokki or sausage, there's a lot of it!
Another recommendation for those who are an avid fan of street foods and want to spend time jus to eat, you may want to visit Gwangjang market which located in Dongdaemun. There are more than thousands stalls there!
3. Namsan Tower 서울 남산타워
Namsan Tower is a renowned building in Korea. It is famous as a tourism spot and a must-go place for a first-timer! From the top of the building which is 236.7 metres tall, you can see almost all of Seoul city view. For the best view, it is suggested to you to go at night, the glimmering lights from the cities will surely mesmerise you!
The admission fees are 11,000 won for adults and children for 9,000 won.
There is also Namsan Cable Car that you might want to give it a shot since you already there. Round-trip just cost you 9,500 for adults and 6,500 won for children which are way cheaper than a one-way trip! For more information, you can refer here.
4. Namdaemun market 남대문 시장
Did you know that Namdaemun market is the largest traditional Korean market in Seoul? There are selling a lot of products at an affordable price! Things that you can find there ranging from kitchenware, toys, mountain gear, fine arts, accessories, hats, and even imported products! Basically you can find almost everything there!
But take note that the market closed on Sundays, so you might want to plan out your activity beside Sundays to go to the market and do some shopping. There's even a food market there if you want to try the food there!
If you are a first-timer in Seoul, this is a great place to explore and you might need a half-day to explore the area given the number of stores is around 10,000 stores over there!
5. Classic Korean BBQ
고기구이(바베큐)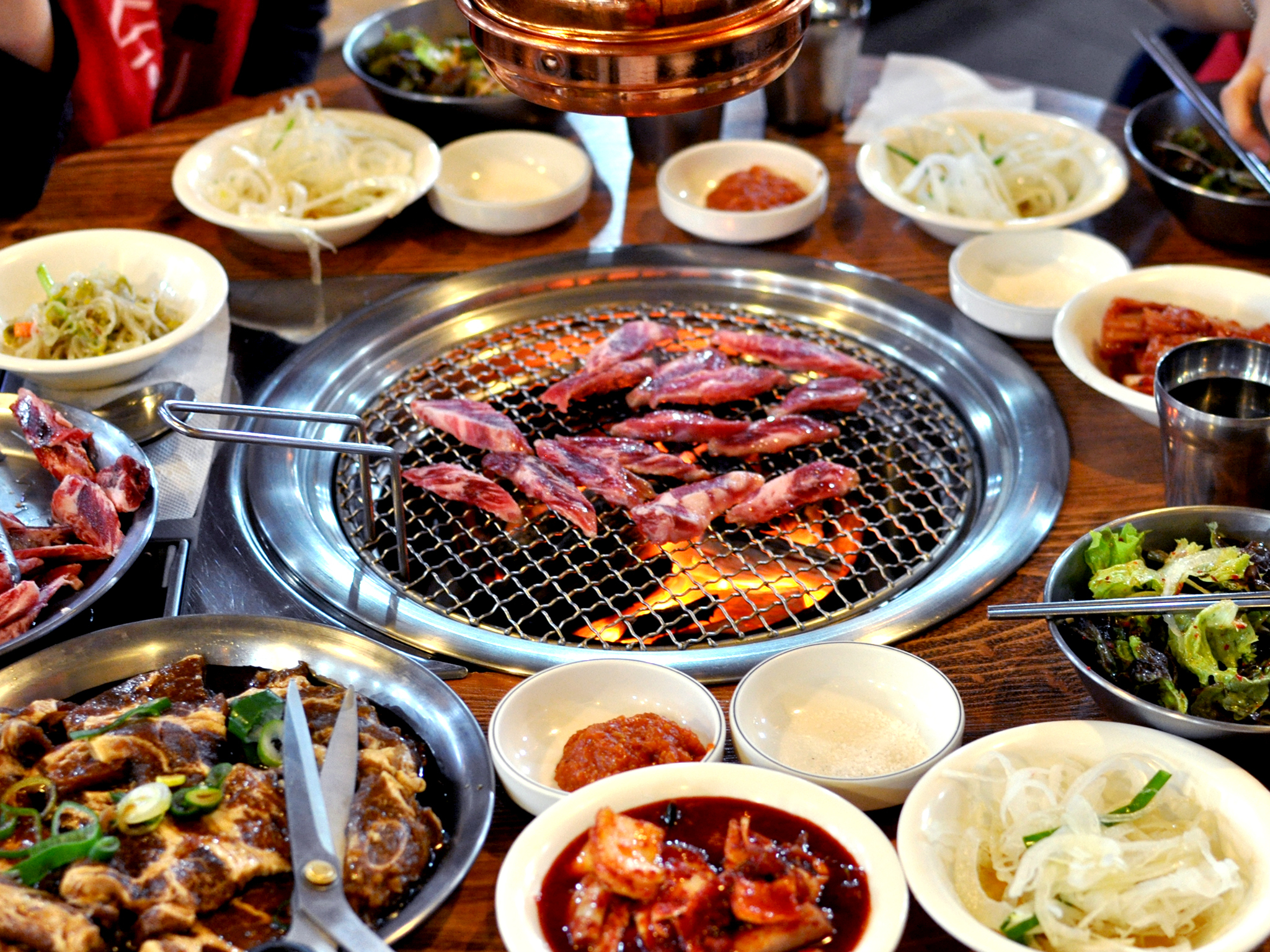 Korean BBQ can be found almost everywhere around the world now. But still, to have a classic Korean BBQ with sounds of Korean people cheering and asking orders in Korean is authentically available in Korea.
There is a lot of Korean BBQ restaurant you can find near your place. So, your task now is to find the restaurant that suits your taste buds, you might found a hidden gem!
Now, as for first-timer, you can try to practice the way of eating Korean BBQ based on what you have seen in Korean drama at Korean BBQ in Korea! How fascinating does that sound!
6. Noryangjin Fisheries Wholesale Market 노량진 수산시장
Noryangjin fish market is basically a fish market. But wait, there's more than that! It is a must to go for a first-timer as this market represents seafood fresh. Fresh here means alive! You can choose any fish that you want such as flounder, sea worms, oysters and the famous live octopus in Korea which you probably have seen it on the internet!
This fish market also is one of the largest Korea seafood markets. They opened early in the morning at dawn until around 10 p.m.
Wait, just that? What's so interesting about the fish market?
Of course, there's a catch here. It's not just a fish market, but over there have restaurants where you can buy then kind of seafood that you like in the market and bring it to the shop for them to cook! Now you can share your experience of eating fresh seafood in Korea.
7. Itaewon 이태원
Itaewon is a synonym place for people around the globe. It is both famous for its food, cafes and bars. In case if you already feeling homesick and need to eat foreign food, Itaewon is the best place because it's filled with a lot of foreign food restaurants ranging from Mexican food, Middle Eastern food and even Vegan restaurants!
Shout out to Vegans out there. Not to worry about visiting Seoul, Korea!
Another thing about Itaewon is, the nightlife there is alive. At night you will see many people wandering around the streets. Majority of Koreans enjoy drinking as you know from Korean dramas or other resources. So, now you can see what kind of nightlife that people have in Itaewon, Seoul.
8. National Museum of Korea 국립중앙박물관
Korea now is a total makeover of how Korea used to be in the past. To know more on the history of Korea as whole, as a first-timer, it is suggested to you to go to the National Museum of Korea to have a deeper knowledge and insight about Korea from its previous dynasties until the war.
They opened everyday except on New Year, Lunar New Year and Korean Thanksgiving Day.
There are a lot of artefacts in the museum from the ancient times of its arts and culture and even until the modern era.
They also have a Children's museum where you can check out further here.
Good news is, the museum gives free admission for the permanent exhibition, free planned exhibition and Children's museum! But they are special exhibitions that you need to purchase. So if you have a keen interest in Korean history, you might want to purchase the special exhibitions!
Overall, for a first-timer, this place is good for you to go as it's free and provides knowledge to you. So it won't be just food and shopping.
9. Starfield Library 별마당 도서관
Starfield Library is located in the centre of COEX Mall in Gangnam. The concept is so interesting where it is open to the public where anyone and everyone there can take a rest and read books.
There's a lot of genres you can find there which hold more than 50,000 books with it gigantic bookshelf. They have both physical books and e-books.
Sometimes, they also hold an event where there will be author meeting session, book talks and many more that related to books!
As many of you have known, this place is an instagrammable place. For a first-timer, reading books here and taking a picture at this place is one of the moments that you would not want to miss out!
You can practice your Korean by exploring thousands of Korean books there. But to do that, ensure yourself to master on how to read and understand Korean first!
10. Korean Cafes 카페/커피숍
What's interesting in Korea is, you can find a huge number of cafes in almost every street that you pass by.
For first-timer, this is your time to act like a Korean actor or actress in a cafe and make those expressions after eating the sweets or beverages like how they did in the drama.
Cafes in Korea are also an instagrammable place where you can take pretty food delight and the thirst-quenching drinks!
There are many types of cafes such as dogs cafes, cat cafes, flower cafes and many more! Different cafes have different prices, so if you just want to try out the Koren cafes, you might want to choose the best option for you!
Korean Cafes is a really unique culture and it's worth visiting for first-timer. Check out which cafes to go to.
So, do you have some ideas already in your mind what to do in Seoul?